Main Hall
From Boat to Table
Using objects, text, photographs, audio, and video, this interactive exhibit allows visitors to learn about all aspects of the seafood industry. Each section of the exhibit includes a look at changes over time with historical artifacts that speak to "Back when".
Gearing Up presents the shoreside work involved in getting a vessel ready for fishing from vessel construction and the design and manufacture of nets and dredges to taking on fuel, ice, and provisions. Visitors can try mending a section of net and develop a grub list – a shopping list to feed their crew.
At Sea explores daily life aboard a fishing vessel including all aspects of the work, the use of technology for navigation and communication, and the importance of safety, as well as the experience of cooking, eating, and sleeping at sea. A wheelhouse creates a sense of shipboard life. A dress up area allows visitors to don fisherman's clothing.
Sustaining the Resource provides an overview of industry efforts to ensure a healthy and plentiful resource including cooperative research which combines skills and knowledge of fishermen and scientists, advancements in technology, and gear modifications to allow for greater selectivity and reduced by-catch.
Landing the Catch follows the seafood from fish hold to auction, to processing plant, and finally to market. A seafood recipe exchange collects and disseminates community recipes. Settlement sheets from the 1960s and today illustrate changing economics.
The Fish News allows visitors to listen a broadcast by local radio personality Bill Brennan.  For over 20 years, Fish News was a vital link between sea and shore.  Listen to excerpts from a 1983 broadcast and browse our library of commercial fishing books and current and back issues of industry trade papers.
Gallery
Nautical Tattoos and the Stories Behind Them: Portraits by Phil Mello
August 10 – October 1, 2017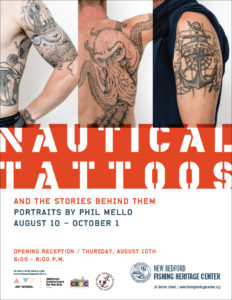 During the 2015 Working Waterfront Festival's Nautical Tattoo Contest, contestants and attendees had the opportunity to have their portraits taken by Phil Mello and the story of their tattoo recorded.  This exhibit showcases these images and stories.
There is a long history of tattoos in the maritime world dating back to the age of sail. The symbolism of many images is part of the tradition for those who have a connection to the sea. More than just beautiful artistry, tattoos often hold deep meaning for those they adorn. A tattoo can be a talisman or commemorate an important event or person. It can serve as a reminder of what has been or reflect an aspiration for the future.
In the commercial fishing community, tattoos often pay tribute to family or friends lost at sea or pledge loyalty to those left on shore. Some portray real or mythical sea creatures and others illustrate a person's character traits or work history.
This exhibit is sponsored by New Bedford Tattoo Company. It is supported in part by an award from the National Endowment for the Arts.  It is presented by the Center, CEDC, and the Working Waterfront Festival.  Special thanks to Tricolor Digital Imaging Services.