Films about the commercial fishing industry and other aspects of the working waterfront are screened on the third Friday of each month at 7:00 p.m. in the theater of the New Bedford Whaling National Historical Park's Corson Maritime Learning Center, located at 33 William Street. Presented by New Bedford Fishing Heritage Center and New Bedford Whaling National Historical Park.
Dock-U-Mentaries is open to the public and presented free of charge.
June 15th The Lonely Doryman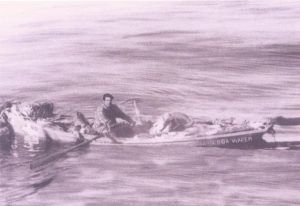 For over four centuries, young Portuguese fishermen have followed their fathers to the Grand Banks of Newfoundland and Greenland to fish the cold waters for cod.Intrepid men, set off for the Banks on schooners under full sail, then adrift in a flat-bottomed dory, they bait the hundred of hooks of their long-line, oblivious to fog, rain and Arctic wind, they labor 18 hours a day and haul up cod by the score.
Retired fisherman Manny Vinagre (pictured) was a part of the White Fleet prior to immigrating to America. He will share tales of life in the fleet.
Photo courtesy of Manny Vinagre