Films about the commercial fishing industry and other aspects of the working waterfront are screened on the third Friday of each month at 7:00 p.m. in the theater of the New Bedford Whaling National Historical Park's Corson Maritime Learning Center, located at 33 William Street. Presented by New Bedford Fishing Heritage Center and New Bedford Whaling National Historical Park.
Dock-U-Mentaries is open to the public and presented free of charge.
July 20th  Barge
This intimate portrait of the machinery of American ambitions tells the story of a towboat crew who work the Mississippi River.
A towboat drifts down the Mississippi River, due for the port of New Orleans. The water, the banks, the bright lights of a port ahead; the lure of a coming paycheck and a home-cooke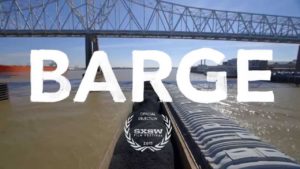 d meal. This is the world of Barge. On board, dry land's misfits find purpose and direction twenty-eight days at a time as the steady hands of an industrial ecosystem teeming with line boats, fleet boats, and a few million tons of cargo moved each year. A green deckhand following his father and grandmother into the family business. A former convict working his way upward job by job, in the hopes of being First Mate. A thirty-eight year veteran engineer in no hurry to retire. An ancient waterway pulling a double shift as the backbone of a national economy; a tangle of thick steel cables, tied together just right. As long as the boat's moving, they're making money. An intimate portrait of the machinery of American ambitions.
August 17th In Altro Mar
In Altro Mar by director and anthropologist Franco La Cecla interweaves the stories of Gloucester, MA Sicilians with those of Italian immigrants who returned to live and work in Terrasini, Italy.The film pays particular attention to changes in the fishing industry that have challenged the viability of smaller-scale, independent fishing in Gloucester.
September 21st Rodman Sykes: A Life in the Fisheries
Rodman Sykes is a lifelong commercial fisherman out of Point Judith, Rhode Island. He began fishing with his grandfather as a child and has pursued this career his whole life. He discusses his life in the fisheries, how it has changed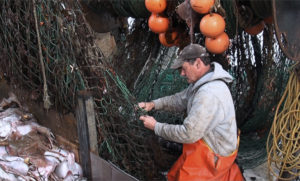 over time, and what increasing regulatory pressure is doing to the industry against the backdrop of a day aboard the F/V Virginia Marise, catching both groundfish for food and skates to be used as bait by local lobstermen. This film is part of a series by Markham Starr documenting the commercial fishing port of Point Judith, Rhode Island. (photo by Markham Starr)
October 19th Salt of the Sea
When the desire to make a living from the sea intersects with politics and corruptio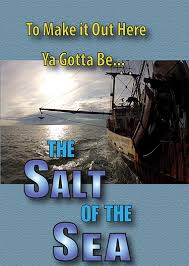 n, commercial fishermen are driven to their limits, and beyond. Salt of the Sea is the story of commercial groundfishing in New England; its history, regulation, and colorful characters who refuse to give up on their dreams. Long independent, fishermen have been plying the Atlantic coastal waters for centuries. Poor scientific research leading to unfair catch limits, overzealous law enforcement practices, and a federal agency that is missing millions of dollars in fishermen's fines, are the backdrop for understanding the frustrations of these fishermen.
Indyfest Award Winner, Official Selection at the Hamptons Take 2 Film Festival and the Long Island Film Festival. 55 minutes. Theatrical release, 2013. By Third Wave Films.
November 16th Life by Lobster
Life by Lobster is a 55-minute documentary that takes you inside the lives of five young lobster fishermen determined to pursue this proud traditional vocation against steadily mounting obstacles.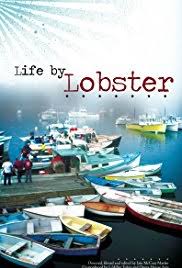 Contrasting the stark beauty of the Downeast Maine seacoast with the stark reality of earning a living there, Life by Lobster, a documentary by independent filmmaker Iain McCray Martin takes you inside the lives of five young lobster fishermen determined to pursue this proud traditional vocation against steadily mounting obstacles.
Co-produced by LA television director J. Miller Tobin (Gossip Girl, Num3ers, CSI) and Maine-based Opera House Arts, LBL was selected as part of the Maine International Film Festival's "Best of 2009" collection and was partially funded by the Perfect Storm Foundation, among others.
LBL features a driving soundtrack from respected and rising Atlanta folk/blues talent Joe McGuinness (2008 Atlanta Blues Challenge Solo/Duo winner) with additional tracks from international blues legend Sean Costello, the Wood Brothers (Amazon.com's #1 pick for folk music in 2006) and go-go surf-psychedelic foursome El Cobra Negro.
December 21st Storm Warriors
Before airplanes and trains, when the sea was the conduit to move people and cargo, shipwrecks took a devastating toll. The United States Life-Saving Service was formed by the Unites States government in 1878 to hire local men to patrol America's beaches and rescue shipwreck survivors. Storm Warriors tells the story of these men and women who continually risked their lives to save complete strangers, often in the teeth of raging storms. Their legacy remains one of the great unsung chapters in humanitarian aid. Storm Warriors tells their story through a dramatic recreation of a shipwreck rescue, interviews with historians, and archival material. 55 minutes. 2000 PBS, Plum TV. By Third Wave Films.