Main Hall
From Boat to Table
Using objects, text, photographs, audio, and video, this interactive exhibit allows visitors to learn about all aspects of the seafood industry. Each section of the exhibit includes a look at changes over time with historical artifacts that speak to "Back when".
Gearing Up presents the shoreside work involved in getting a vessel ready for fishing from vessel construction and the design and manufacture of nets and dredges to taking on fuel, ice, and provisions. Visitors can try mending a section of net and develop a grub list – a shopping list to feed their crew.
At Sea explores daily life aboard a fishing vessel including all aspects of the work, the use of technology for navigation and communication, and the importance of safety, as well as the experience of cooking, eating, and sleeping at sea. A wheelhouse creates a sense of shipboard life. A dress up area allows visitors to don fisherman's clothing.
Sustaining the Resource provides an overview of industry efforts to ensure a healthy and plentiful resource including cooperative research which combines skills and knowledge of fishermen and scientists, advancements in technology, and gear modifications to allow for greater selectivity and reduced by-catch.
Landing the Catch follows the seafood from fish hold to auction, to processing plant, and finally to market. A seafood recipe exchange collects and disseminates community recipes. Settlement sheets from the 1960s and today illustrate changing economics.
The Fish News allows visitors to listen a broadcast by local radio personality Bill Brennan.  For over 20 years, Fish News was a vital link between sea and shore.  Listen to excerpts from a 1983 broadcast and browse our library of commercial fishing books and current and back issues of industry trade papers.
Gallery
Working on the Waterfront  October 11 – February 3, 3019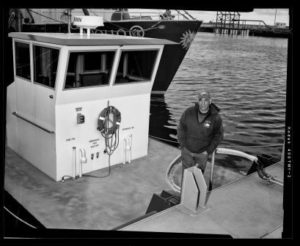 In New Bedford, there are over 5,000 people working in the commercial fishing industry both on and off-shore.  Those in shore-side businesses work in a variety of positions such as electronics technicians, fuel barge operators, welders, fish samplers, settlement staff, fish cutters, and fish sellers.  From preparing a vessel to go out to sea to processing the product for market, all of these workers are vital to the success of the fishing trip and the industry.
Working on the Waterfront highlights the important role of these shore side workers, drawing from 58 oral histories over the past two years.  These men and women understand the importance of doing the best job possible because the quality of their work means a safe, successful trip for the vessel or a better price for the product. They talk with pride about their jobs and how, in spite of challenges, love what they do.  The majority of those interviewed work for family owned businesses, creating a unique workplace environment which they value.
An oral history kiosk, made possible with support from NOAA's Voices from the Fisheries, will enable visitors to listen to workers talk about Learning the Trade, A Typical Day, and All in the Family.
The oral history excerpts were taken from interviews recorded as part of an Archie Green Fellowship from the Library of Congress awarded to the Center. The project, Workers on the New Bedford Waterfront,  focused on interviewing 58 shore-side workers involved in the local commercial fishing industry with a particular emphasis on female workers and Central American workers.  In addition to being a part of the Center's archives, these interviews and photographs are part of the permanent collection of the Library of Congress.
Special thanks to all who shared their stories and invited our interviewers into their workplace.  Interviews were conducted by Laura Orleans – Folklorist & Executive Director of the New Bedford Fishing Heritage Center; Madeleine Hall-Arber – anthropologist, MIT Sea Grant (retired); Corinn Williams – Community Economic Development Center of Southeastern Massachusetts; and Fred Calabretta – Oral historian at Mystic Seaport Museum. Project photographer was Phil Mello of Big Fish Studio.