Main Hall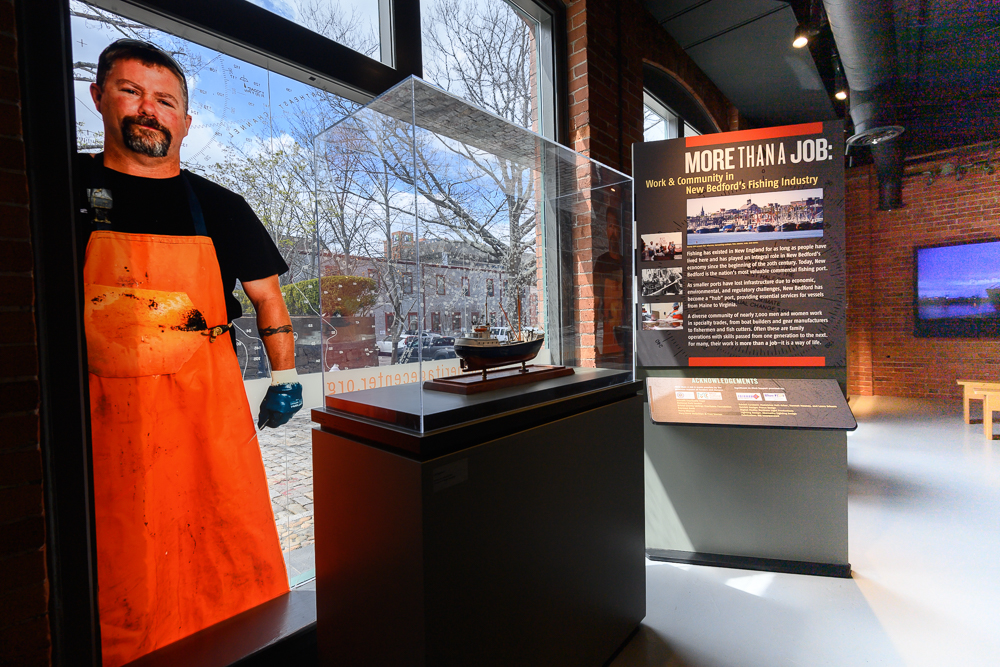 More than a Job: Work and Community in New Bedford's Fishing Industry provides visitors with an introduction to the workings of the fishing industry as well as explore themes including labor history, immigration, sustainability, and the changing nature of work and community. This exhibit features a replica working deck, scallop dredge, galley table, bunks, historic and contemporary images and footage, and more than sixty audio clips sharing the many voices of the fishing community.
Funding for More than a Job: Work and Community in New Bedford's Fishing Industry is provided by a major grant from the National Endowment for the Humanities and significant support from Bristol County Savings Bank. Major in-kind support for this exhibit was provided by Fairhaven Shipyard and Blue Fleet Welding. Support for an online companion exhibit and curriculum materials was provided by Mass Humanities and Bristol County Savings Charitable Foundation.
Click below to watch the Keynote Speech by Brian Boyles, Executive Director of Mass Humanities, at the Fishing Heritage Center's 5th Anniversary Celebration and Grand Opening of More than a Job.
Gallery
Fishboats: Art of the Industry
Opening September 8th, 2022 5:30-8 PM (AHA! Night)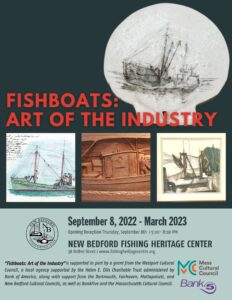 For those who make their living from the sea, fishing vessels are like family members. Even those who have little or no familiarity with the fishing industry know that the boat is at its center. However, most people do not associate the industry's workforce with the creation of art. Fishboats: Art of the Industry, the Center's new gallery exhibit, will offer audiences a new lens through which to view fishboats and the fishing community.
The exhibit will include drawings, paintings, wood carvings, and models created by ten artists who are fishermen, shoreside workers, fishing family members, and close associates of the fishing community. Featured artists are Gordon Bok, Bob Bowers, Captain Alan Curtis, Christina Jacobsen DeVilliers, Captain Bruce Gifford, Donald Hoaglund, Steve Kennedy, Captain Eva Liput, Captain R.S. Meekins, and Arthur Moniz.
We are presenting many programs related to this exhibit in the coming months, including model boat demonstrations, film screenings, artist talks, a shipyard tour, dock walks, and performances of music and spoken word on the theme. Be sure to check our
calendar
and
Facebook page
as these get announced!
Fishboats: Art of the Industry is supported in part by a grant from the Westport Cultural Council, a local agency supported by the Helen E. Ellis Charitable Trust administered by Bank of America, along with support from the Dartmouth, Fairhaven, Mattapoisett, and New Bedford Cultural Councils, as well as BankFive and the Massachusetts Cultural Council.