Main Hall
From Boat to Table
Using objects, text, photographs, audio, and video, this interactive exhibit allows visitors to learn about all aspects of the seafood industry. Each section of the exhibit includes a look at changes over time with historical artifacts that speak to "Back when".
Gearing Up presents the shoreside work involved in getting a vessel ready for fishing from vessel construction and the design and manufacture of nets and dredges to taking on fuel, ice, and provisions. Visitors can try mending a section of net and develop a grub list – a shopping list to feed their crew.
At Sea explores daily life aboard a fishing vessel including all aspects of the work, the use of technology for navigation and communication, and the importance of safety, as well as the experience of cooking, eating, and sleeping at sea. A wheelhouse creates a sense of shipboard life. A dress up area allows visitors to don fisherman's clothing.
Sustaining the Resource provides an overview of industry efforts to ensure a healthy and plentiful resource including cooperative research which combines skills and knowledge of fishermen and scientists, advancements in technology, and gear modifications to allow for greater selectivity and reduced by-catch.
Landing the Catch follows the seafood from fish hold to auction, to processing plant, and finally to market. A seafood recipe exchange collects and disseminates community recipes. Settlement sheets from the 1960s and today illustrate changing economics.
The Fish News allows visitors to listen a broadcast by local radio personality Bill Brennan.  For over 20 years, Fish News was a vital link between sea and shore.  Listen to excerpts from a 1983 broadcast and browse our library of commercial fishing books and current and back issues of industry trade papers.
Gallery
Rigs, Hulls, & Wheelhouses: The Art of Bob Lavoie
July 12-September 30
The New Bedford Fishing Heritage Center is pleased to announce the opening of Rigs, Hulls and Wheelhouses: The Art of Bob Lavoie Thursday, July 12th at 6:30 p.m. during AHA.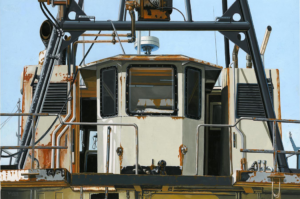 Bob Lavoie first became acquainted with New Bedford's working fishing vessels when he began unloading vessels in high school. His time on the working docks continued while studying at SMU (now UMass Dartmouth) where he earned his BFA in Graphic Design and Illustration. He fell in love with the aesthetics of the vessels – the colors, the machinery, the lines.
After a career spent as a graphic designer, illustrator, and Art Director at Hasbro in Pawtucket, Rhode Island, Bob felt the need to begin to paint again.  He began using the brilliant colors of gouache, a thick, opaque Italian watercolor. When deciding what his subject would be, he went back to something that meant a lot to him – the working fishing vessels of New Bedford and Galilee, Rhode Island.
Bob says of his subjects, "I've tried to paint them as they are – working boats with the rust, nets, blocks, and confusing jumbles of lines that make them beautiful.  These working vessels are disappearing in some ports, being displaced by pristine yachts in the slips and multi-million dollar condos on the docks where once these proud working vessels sailed out into the Atlantic to bring in cod, haddock, and scallops that made New England one of the primary fisheries in the world. These paintings are a small attempt to preserve a  part of our New England heritage that is fast disappearing."