Main Hall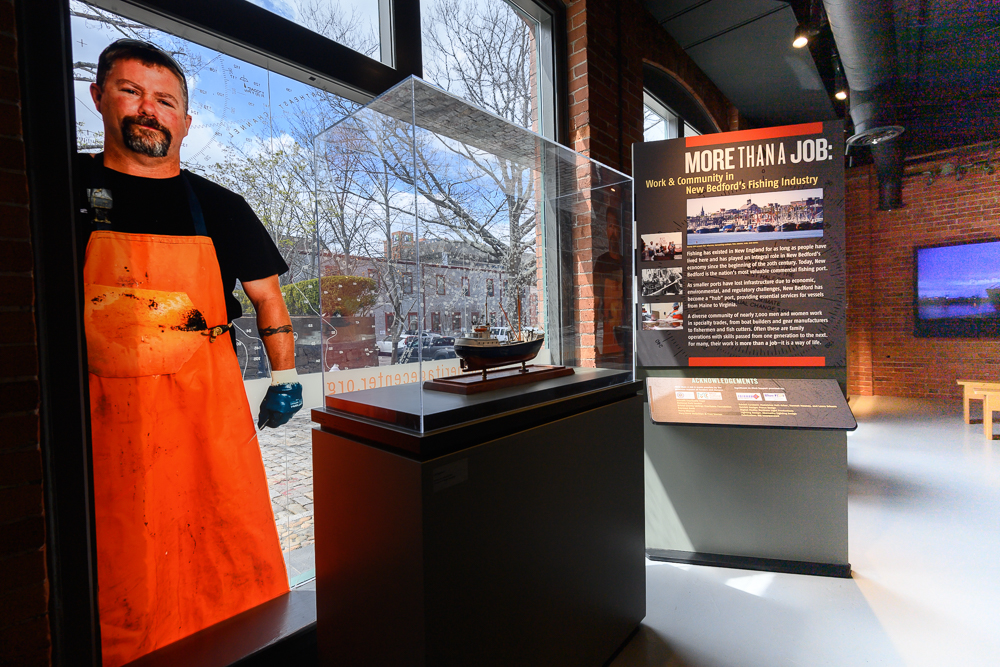 More than a Job: Work and Community in New Bedford's Fishing Industry provides visitors with an introduction to the workings of the fishing industry as well as explore themes including labor history, immigration, sustainability, and the changing nature of work and community. This exhibit features a replica working deck, scallop dredge, galley table, bunks, historic and contemporary images and footage, and more than sixty audio clips sharing the many voices of the fishing community.
Funding for More than a Job: Work and Community in New Bedford's Fishing Industry is provided by a major grant from the National Endowment for the Humanities and significant support from Bristol County Savings Bank. Major in-kind support for this exhibit was provided by Fairhaven Shipyard and Blue Fleet Welding. Support for an online companion exhibit and curriculum materials was provided by Mass Humanities and Bristol County Savings Charitable Foundation.
Click below to watch the Keynote Speech by Brian Boyles, Executive Director of Mass Humanities, at the Fishing Heritage Center's 5th Anniversary Celebration and Grand Opening of More than a Job.
Gallery
Sea Monsters: Real and Imagined 
On view July 13, 2023 until December 13, 2023
New Bedford Fishing Heritage Center's gallery has been invaded by,
Sea Monsters Real and Imagined
! The exhibit showcases real-life deep-sea creatures
as well as those from myths and legends around the world and features the talents of local artists
Brian Tillett
(AKA BB the Gun), Christina Jacobsen DeVilliers, and
Erik Durant
. The concept for this unusual exhibit came from Ethan Bailey, a student volunteer. As the ocean is the least explored habitat on earth, nearly all coastal cultures have stories about "monsters of the deep," reflecting their unique geography, history, and values.
Read the full exhibit Press Release here
.
Starting in July, a "Sea Monster of the Month" will be highlighted. The Center has produced limited edition trading cards featuring images and descriptions of sea monsters included in the exhibit. The sea monster of the month cards will be available to AHA night visitors as long as supplies last. Other cards will be available for purchase. Trade with family and friends to collect them all! Keep an eye on our
Facebook
 and 
online calendar
 for related programming including contests, film screenings, talks, and the return of Unusual Catch Day. 
Sea Monsters Real and Imagined
is made possible with funding from the Acushnet, Dartmouth, Fairhaven, Marion, Mattapoisett, and New Bedford Cultural Councils, as well as a grant from the Westport Cultural Council, a local agency supported by the Helen E. Ellis Charitable Trust administered by Bank of America, the Massachusetts Cultural Council, BankFive, BayCoast Bank, and a Community Impact Grant from Eversource.