Main Hall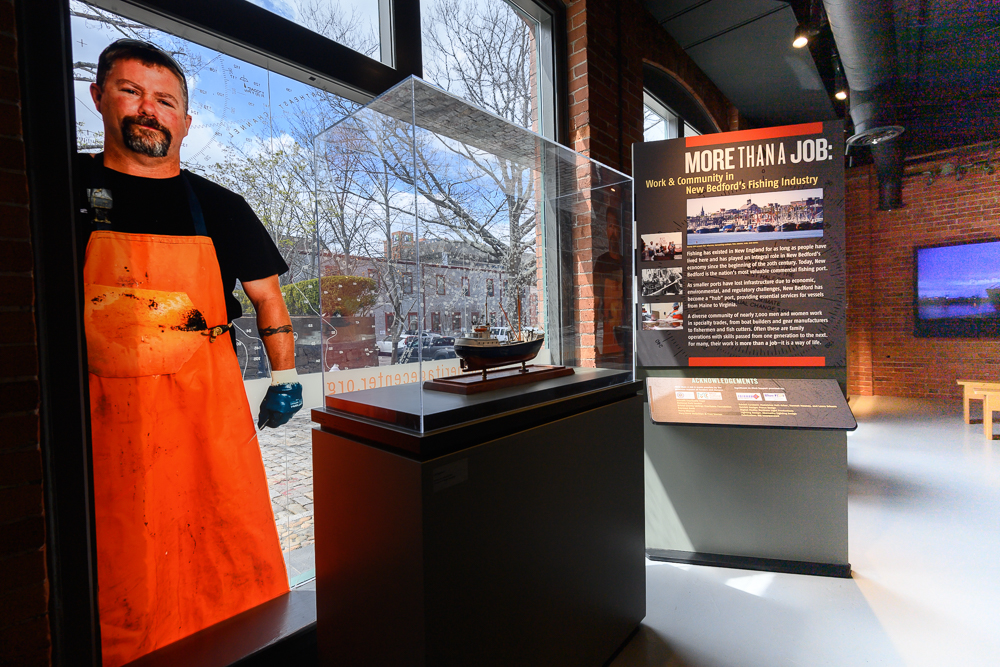 More than a Job: Work and Community in New Bedford's Fishing Industry provides visitors with an introduction to the workings of the fishing industry as well as explore themes including labor history, immigration, sustainability, and the changing nature of work and community. This exhibit features a replica working deck, scallop dredge, galley table, bunks, historic and contemporary images and footage, and more than sixty audio clips sharing the many voices of the fishing community.
Funding for More than a Job: Work and Community in New Bedford's Fishing Industry is provided by a major grant from the National Endowment for the Humanities and significant support from Bristol County Savings Bank. Major in-kind support for this exhibit was provided by Fairhaven Shipyard and Blue Fleet Welding. Support for an online companion exhibit and curriculum materials was provided by Mass Humanities and Bristol County Savings Charitable Foundation.
Click below to watch the Keynote Speech by Brian Boyles, Executive Director of Mass Humanities, at the Fishing Heritage Center's 5th Anniversary Celebration and Grand Opening of More than a Job.
Gallery
Women's Work: At Sea, On Shore, At Home, In the Community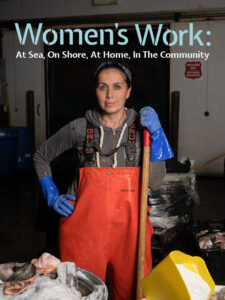 Featuring more than sixty women from fishing communities in Massachusetts, Maine, and Rhode Island, the exhibit amplifies the voices and experience of women who work in what is often perceived to be a male-dominated world. The exhibit features the photography of Shareen Davis, Markham Starr, and Phil Mello, and draws on oral history interviews conducted over the past 15 years. Visitors will meet women who work on deck as fishermen and scientists, on shore as welders and electricians, women who own businesses and boats, and women who advocate on behalf of the fishing industry. In addition, the exhibit explores topics ranging from "What do You Call a Woman who Fishes?" to "Women in Myths and Marketing."  This exhibit will be up through June 2022.
In addition to the exhibit, the Center is presenting a year-long series of films, talks, performances, and demonstrations designed to engage visitors in exploring the lives, skills, and experiences of women who work in the fishing industry as well as those who are connected through family. Learn more about these programs on the Center's online calendar.
This exhibit and related program series is funded by the National Endowment for the Arts, the Women's Fisheries Network, Bridge Street Sponsorship from Mass Humanities, Women's Fund SouthCoast, Mass Cultural Council, and the New Bedford, Fairhaven, Dartmouth, Westport, Marion, and Mattapoisett Cultural Councils.