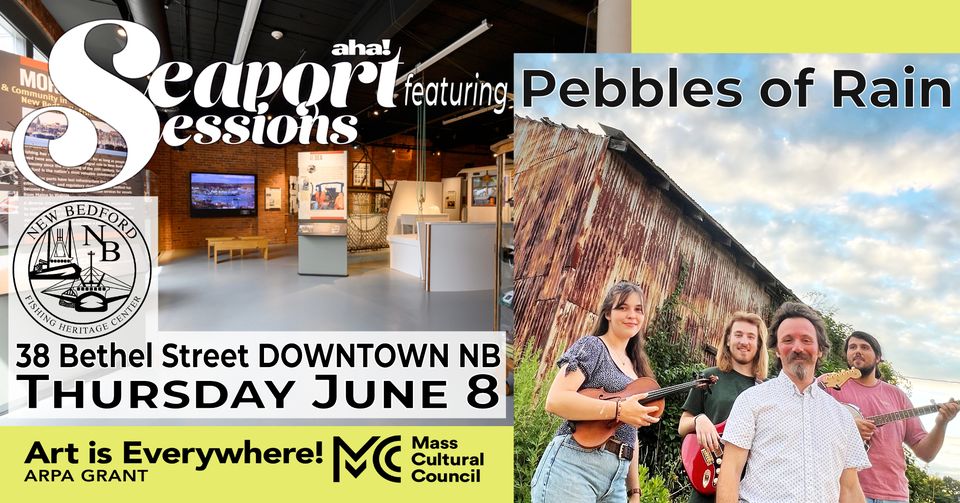 AHA! Seaport Sessions: Pebbles of Rain
Thurs., 6/8 • 7 PM • Center (38 Bethel Street, New Bedford) • FREE!!
Pebbles of Rain plays eclectic acoustic music with deep roots and long branches that reach out toward many genres. Sometimes they also break out the shovel and break new ground free of all genre confines. No matter how far they stray, though, there is an underlying love, respect, and experience with traditional music that informs the band's sensibilities. The band is comprised of Jeff Angeley, Samantha Babineau, Christian Camarao, and Steven Brum, all multi-instrumentalists who were all independent songwriters before coming together.
We invite you to support New Bedford Fishing Heritage Center, Inc
Supporters such as you help us preserve and present the story of the fishing industry past, present, and future, through exhibits, programs, and archives. We thank you on behalf of the children we serve, the community we engage, and the many members and visitors who benefit from your generous gift.
The New Bedford Fishing Heritage Center, Inc. is a 501(c)(3) non-profit organization. All donations are fully tax-deductable as allowed by law.