Not a member?  Join now to save on future concerts and more!
Anita Best 
Thursday, March 31st at 7pm
Location: Virtual (Facebook)
Free and open to the public; view the stream on our Facebook page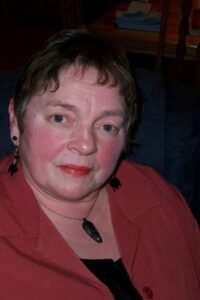 Anita Best has spent a lifetime exploring, cataloguing and celebrating the rural Newfoundland lifestyle and culture. In the process she has become one of the province's most prominent traditional singers.
Born on Merasheen Island in Placentia Bay (since abandoned under the resettlement program), Best has worked as an educator, archivist, folklorist, broadcaster and singer. A particular interest in oral history – songs and stories passed down through generations – lead to her performing career. She has toured extensively as a storyteller and singer, made numerous television and radio appearances and added her voice to several Newfoundland recordings. She is best known for two albums: The Colour Of Amber, a collaboration with Pamela Morgan, was released in 1993. Crosshanded, a collection of twelve songs for solo voice, followed a few years later. In these recordings and in her performances, Best tends to forego the standard Newfoundland repertoire in favour of the lesser known songs and stories collected from around the province.
This concert is part of "Women's Work" programming which is funded by the National Endowment for the Arts, the Women's Fisheries Network, Mass Cultural Council, and the New Bedford, Fairhaven, Dartmouth, Westport, Marion, and Mattapoisett Cultural Councils.