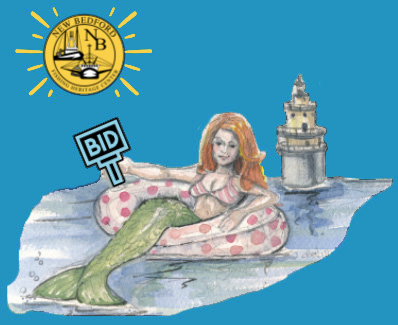 Make Waves:
An Online Auction to Support
New Bedford Fishing Heritage Center
Welcome to the 2023 Auction!
Click on an image for details about the item or package.
To place a bid: Click on the image of the item you are interested in. Enter your bid amount (note your bid must be equal to or greater than the starting bid if you are the first bidder or the current bid if others have already bid on the item). At this point, you will be prompted to sign in or create an account. Creating an account will allow you to proceed with the bidding process and enable you to receive notifications about subsequent bids placed on that item so that you have a chance to increase your bid. Once you create an account or sign in, you will need to re-enter your bid amount.

Auction Items: Clothing & Marine Gear
Auction Items: Experiences
Auction Items: Food & Cooking
Auction Items: Collectibles
Auction Items: Home Décor & More
Auction Items: Kids & Family
Thank You to our 2023 Auction Donors
When does the Auction go live?
The 2023 Auction will go live September 19, 2023 at 12pm (noon) and end September 29, 2023 at 12pm (noon)
Do I have to cover shipping charges if I need a physical item shipped to me?
Yes. We highly suggest in-person pick up for all physical items, but in the case of an item needing to be shipped to the winning bidder, all shipping charges will be covered by the purchaser/highest bidder. Please note that the default shipping method is In-Person Pick Up, meaning unless shipping is specifically requested we will expect the purchaser to pick up the item at our storefront.
I'd like to donate an item or service to next year's Auction! How can I do that?
I'm an artist/craftsperson and I'd like to offer my products in your store, how can I do that?
There are no auction items I'm particularly interested in, but I'd like to financially support New Bedford Fishing Heritage Center. How can I do that?
There are many ways to support us, and we appreciate any and all of them! Please visit our donation page to financially support us!
I can't financially support New Bedford Fishing Heritage Center at this time, and/or I'd like to offer support in other ways. Is that possible?
Yes! We have many non-financial ways of supporting New Bedford Fishing Heritage Center. Please visit this page for more information on the many ways of supporting us.