When:
July 13, 2023 @ 5:00 pm – 8:00 pm
America/New York Timezone
2023-07-13T17:00:00-04:00
2023-07-13T20:00:00-04:00
Where:
New Bedford Fishing Heritage Center
38 Bethel Street
New Bedford MA 02740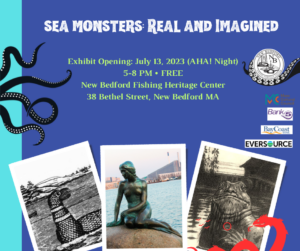 AHA! Night – Exhibit Opening – Sea Monsters: Real and Imagined
Thurs., 7/13 5-8 PM Center (38 Bethel Street, New Bedford)
Sea Monsters: Real and Imagined showcases real-life deep-sea creatures as well as those from myths and legends from around the world. Learn about the Norse Kraken, the Portuguese giant Adamastor, and Longwang, the Chinese Dragon King, and more while you explore real life sea monsters like mantis shrimp, hagfish, and zooids. Hear about sea monster sighting in Massachusetts and some of the historic hoaxes (or are they?) played on Massachusetts residents as early as the 17th century. Sea Monsters: Real and Imagined will be on view through the end of 2023.
As part of our AHA! Night programming, we will be hosting a community art project. Participate in making a 25 foot long Sea Serpent that will hang in the Center for the duration of the exhibit!
Sea Monsters: Real and Imagined and associated programming are funded by the Acushnet, Dartmouth, Fairhaven, Marion, Mattapoisett, and New Bedford Cultural Councils, as well as a grant from the Wesport Cultural Council, a local agency supported by the Helen E Ellis Charitable Trust administered by Bank of America, the Massachusetts Cultural Council, BankFive, BayCoast Bank, and a Community Impact Grant from Eversource.