Films about the commercial fishing industry and other aspects of the working waterfront are screened on the third Friday of each month at 7:00 p.m. in the theater of the New Bedford Whaling National Historical Park's Corson Maritime Learning Center, located at 33 William Street. Presented by New Bedford Fishing Heritage Center and New Bedford Whaling National Historical Park.
Dock-U-Mentaries is open to the public and presented free of charge.
Ruthie B, Ruthie B
March 15th, 7:00 p.m.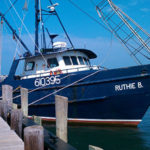 This film provides an intimate portrait of a fishing family; the story of Captain Bill Blount and his wife Ruth, the last offshore fishing family on Nantucket. Bill spent more than a half century fishing and even built and designed the boat he named F/V Ruthie B. Learn about their struggles to stay afloat financially and Bill's determination to pursue a career that gives him satisfaction if not monetary rewards. Recently Bill and Ruth relocated to New Bedford and will be attending the screening to answer questions following the film.
Finding and Avoiding Fish
April 19th, 7:00 p.m.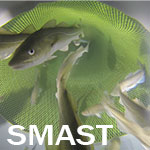 Is technology destroying or sustaining the commercial fishing industry? Attend this presentation of collaborative research being done by SMAST fisheries scientists and members of the regional fishing industry to answer that very question.
Researchers from SMAST's Marine Fisheries Field Research Group continue to pioneer the use of high-resolution photo, video and artificial intelligence technologies to survey fish and shellfish species and develop fishing gear and practices that minimize by-catch and damage to habitat.
This program is part of a series exploring the evolution and impact of technological change in the fishing industry and is funded in part by a grant from Mass Humanities.
Reef Assassin: Devouring the Atlantic coastline one bite at a time
May 17th, 7:00 p.m.
This full-feature lionfish documentary inspired the naming of a US Congressional bill. There's a plan to control the lionfish before they destroy the fishery, but do we have the guts to implement it?
Meet the players: activists desperately trying to convince government officials to adopt an ingenious lionfish population program, people in Newfoundland tell the story of how their lives, culture, and economy were changed forever after a fishery collapse, and hear from one determined elected official that vaulted the lionfish issue from the state to federal level.